Cagamas: A Financial Intermediary in Malaysia's Bond and Sukuk Market
Apr 08, 2021 +
"Green SRI", SRI.

Cagamas is among the biggest issuer in Malaysia's debt market with RM 339.5 billion of bonds and sukuk cumulatively issued as of December 2020. Cagamas was created in 1987 as the National Mortgage Corporation Malaysia, with a mandate to promote home ownership and growth of the secondary mortgage market. You can learn more about Cagamas

here

.

Cagamas Roles in Malaysia's Financial Market

Cagamas plays an integral role in Malaysia's financial market by providing liquidity to the secondary mortgage market.

Before Cagamas was established, financial institutions such as commercial banks were facing a tight liquidity and constraint to meet the excess demand for housing loans. Banks depend on their deposit base as the primary source of cash to lend to borrowers. If the deposit base is small, then the capacity to give out the loan is also limited. The bank's liquidity can be assessed with its loan to deposit ratio, with the higher ratio indicates low liquidity. In 1986, a year before Cagamas was founded, the loan to deposit ratio of financial institutions in Malaysia was at 98.0%.

How Cagamas Provides Liquidity to The Secondary Mortgage Market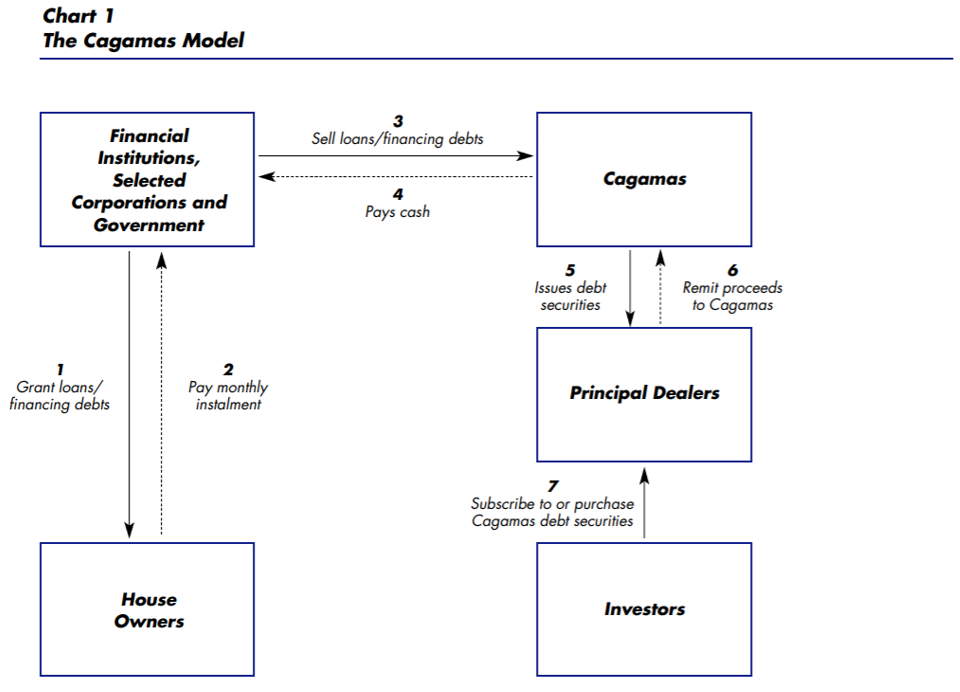 Source: Evolution of Cagamas Article

To overcome the liquidity issue, Cagamas purchases housing loans from financial institutions or the loan originators. The proceed from the sale allows financial institutions to provide more housing loans to borrowers.

Cagamas funds the purchase by issuing short-term notes and long-term bonds or sukuk to investors. With Cagamas bond and sukuk, investors can get exposure to the mortgage market as the payment for coupon, profit, and principal of the bond or sukuk is derived from the repayment of the housing loans by borrowers.

Over the years, Cagamas has expanded its underlying assets from housing loans to hire purchase, personal loans, commercial and industrial property loans
Bonds and Sukuk Issued by Cagamas
As of February 2021, Cagamas has RM31.3 billion outstanding amount of bond and sukuk. The bond and sukuk issued by Cagamas is considered as an investment-grade carrying AAA rating from both

domestic credit rating agencies

in Malaysia, RAM and MARC as of this writing.
Investors who are interested in Cagamas bond and sukuk can subscribe a new issue through Cagamas or appointed Lead Managers or buy existing issuances through secondary market.



Check Cagamas Bond and Sukuk Security Information Page



On the Sustainable and Responsible Investment (SRI) front, Cagamas also issued its inaugural ASEAN Sustainability SRI Sukuk (SRI Sukuk) in 2020. It is a three-year RM 100 million SRI Sukuk which was issued under its RM 60 billion Islamic Medium Term Notes Programme. The SRI Sukuk was assigned with the highest Social Benefit Rating of Tier-1 by RAM Sustainability Sdn Bhd. The proceeds from the SRI Sukuk will be utilized to fund the purchase of eligible Islamic financing for affordable housing.

Following its first SRI Sukuk, another RM100 million multi-tenured SRI Sukuk was issued to fund the purchase of eligible non-carbon emitting industrial hire purchase receivables for Small and Medium Enterprises (SME) that contribute to environmental sustainability.

More Information on Sustainable and Responsible Investment in Malaysia
Sustainable and Responsible Investment Sukuk (SRI) Center provides information on all SRI bonds and sukuk issued in Ringgit Malaysia. Investors and other market participants can follow up on the development of SRI bond market in Malaysia with the recent announcements published at the center from time to time. The SRI Center also provide a reference and related regulatory framework for SRI issuances.
Sources:

Disclaimer

This report has been prepared and issued by Bond and Sukuk Information Platform Sdn Bhd ("the Company"). The information provided in this report is of a general nature and has been prepared for information purposes only. It is not intended to constitute research or as advice for any investor. The information in this report is not and should not be construed or considered as an offer, recommendation or solicitation for investments. Investors are advised to make their own independent evaluation of the information contained in this report, consider their own individual investment objectives, financial situation and particular needs and should seek appropriate personalised financial advice from a qualified professional to suit individual circumstances and risk profile.

The information contained in this report is prepared from data believed to be correct and reliable at the time of issuance of this report. While every effort is made to ensure the information is up-to-date and correct, the Company does not make any guarantee, representation or warranty, express or implied, as to the adequacy, accuracy, completeness, reliability or fairness of any such information contained in this report and accordingly, neither the Company nor any of its affiliates nor its related persons shall not be liable in any manner whatsoever for any consequences (including but not limited to any direct, indirect or consequential losses, loss of profits and damages) of any reliance thereon or usage thereof.