Malaysia's economy grows 3.3% in Q3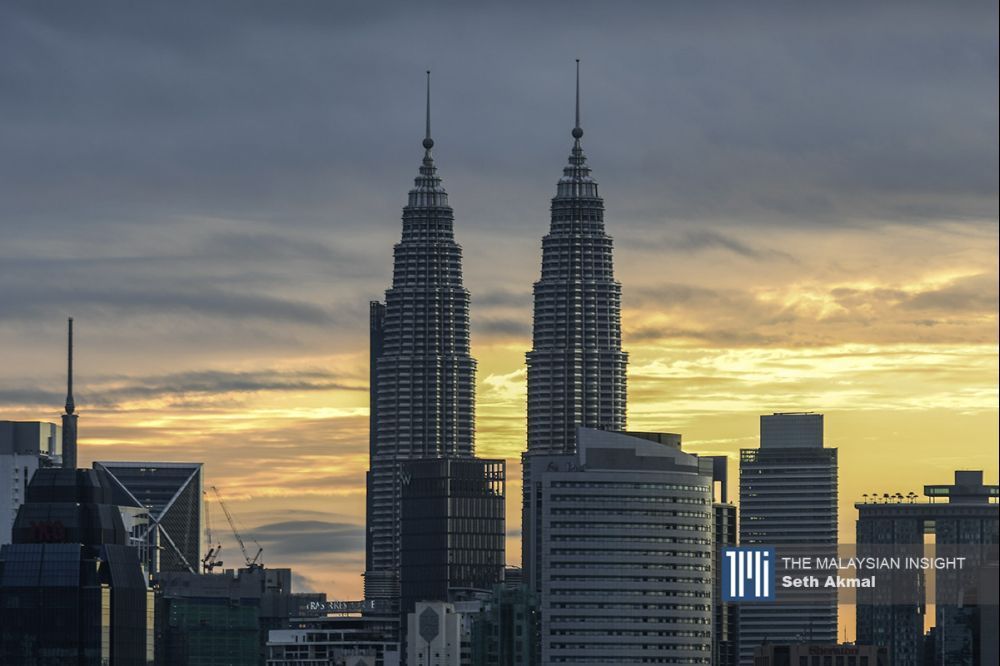 The Malaysian economy expanded 3.3% in the third quarter of 2023, Bank Negara Malaysia says. – The Malaysian Insight file pic, November 17, 2023.
THE Malaysian economy expanded by 3.3% in the third quarter of 2023 (3Q 2023) from 2.9% in 2Q 2023, supported by resilient domestic demand, Bank Negara Malaysia (BNM) said.

BNM governor Abdul Rasheed Ghaffour said household spending remained supported by continued growth in employment and wages, while investment activity was underpinned by the progress of multi-year projects and capacity expansion by firms.

"Exports remained soft amid prolonged weakness in external demand. This, however, was partially offset by the recovery in inbound tourism.

"On the supply side, the services, construction and agriculture sectors remained supportive of growth," he said during the 3Q GDP announcement in Kuala Lumpur today.

However, Rasheed said this was partly offset by the decline in production in the manufacturing sector, given the weakness in demand for electrical and electronic (E&E) products and lower production of refined petroleum products.

On a quarter-on-quarter seasonally adjusted basis, he said the economy grew by 2.6% (2Q 2023: 1.5%), while overall, the Malaysian economy expanded by 3.9% in the first three quarters of 2023.

Inflation

Meanwhile, Rasheed said headline inflation continued to moderate to 2.0% (2Q 2023: 2.8%) during the quarter.

"The moderation was recorded in both non-core inflation and core inflation. For non-core inflation, fresh food and fuel contributed to the decline," he said.

He added that core inflation declined further to 2.5% (2Q 2023: 3.4%) but remained above its long-term average (2011-2019 average: 2.0%).

"The moderation in core inflation was largely contributed by selected services, including food away from home, expenditure in restaurants and cafés, and personal transport repair and maintenance," he said.

He said inflation pervasiveness declined as the share of Consumer Price Index (CPI) items recording monthly price increases moderated to 40.8% during the quarter (2Q 2023: 42.7%), below the third quarter long-term (2011-2019) average of 44.5%.

Outlook

Going forward, Rasheed said growth will remain resilient despite external headwinds on account of firm domestic demand.

"Despite the challenging global environment, the Malaysian economy is projected to expand by around 4.0% in 2023 and 4.0– 5.0% next year, driven by the expansion in domestic demand amid steady employment and income prospects, particularly in domestic-oriented sectors.

"This growth performance, along with other favourable economic developments, would provide support to the ringgit," he said.

Additionally, he said improvements in tourist arrivals and spending are expected to continue, while investments will be supported by further progress of multi-year infrastructure projects and the implementation of catalytic initiatives.

"Measures under Budget 2024 will also provide additional impetus to economic activity.

"Nonetheless, the growth outlook remains subject to downside risks stemming primarily from weaker-than-expected external demand as well as larger and more protracted declines in commodity production," he said.

However, Rasheed said there are upside risk factors such as stronger-than-expected tourism activity, a stronger recovery from the E&E downcycle, and faster implementation of existing and new investment projects.

He added that both headline and core inflation have been declining throughout the year, mainly due to milder cost conditions, and this would likely continue for the remainder of 2023.

"Overall, headline inflation is expected to average between 2.5 and 3.0% this year. Going forward, risks to the inflation outlook remain highly subject to changes to domestic policy on subsidies and price controls, as well as global commodity prices and financial market developments," he said. – Bernama, November 17, 2023.

Disclaimer

The information provided in this report is of a general nature and has been prepared for information purposes only. It is not intended to constitute research or as advice for any investor. The information in this report is not and should not be construed or considered as an offer, recommendation or solicitation for investments. Investors are advised to make their own independent evaluation of the information contained in this report, consider their own individual investment objectives, financial situation and particular needs and should seek appropriate personalised financial advice from a qualified professional to suit individual circumstances and risk profile.
The information contained in this report is prepared from data believed to be correct and reliable at the time of issuance of this report. While every effort is made to ensure the information is up-to-date and correct, Bond and Sukuk Information Platform Sdn Bhd ("the Company") does not make any guarantee, representation or warranty, express or implied, as to the adequacy, accuracy, completeness, reliability or fairness of any such information contained in this report and accordingly, neither the Company nor any of its affiliates nor its related persons shall not be liable in any manner whatsoever for any consequences (including but not limited to any direct, indirect or consequential losses, loss of profits and damages) of any reliance thereon or usage thereof.