How To Increase Your Bond and Sukuk Issuance Rating With Danajamin: The Roles of Financial Guarantee in Bond Market

In Malaysian capital market, the bond market represents RM1.6 trillion of the total value outstanding. Bond market is one of the options for companies to raise capital to fund their businesses. Nevertheless, not all companies have a strong credit profile to attract demand from investors to invest in their bonds. Some companies especially in the mid-tier size, despite having a good business prospect, they struggle to raise fund via bond market as their credit backgrounds are not convincing to investors. Hence, a financial guarantor is needed to enhance the credit profile of these companies and enable them to tap into the bond market for funding. Over the last five years, Malaysia's corporate bond and sukuk issuances has grown steadily from only RM 86.35 billion issuances in 2015 to RM 104.58 billion issuances in 2020. As of June 2021, the total outstanding amount for investment-grade corporate bonds, BBB-rating and above was at RM 381.05 billion. AAA and AA rating represented 44.81% and 45.62% of this outstanding amount respectively.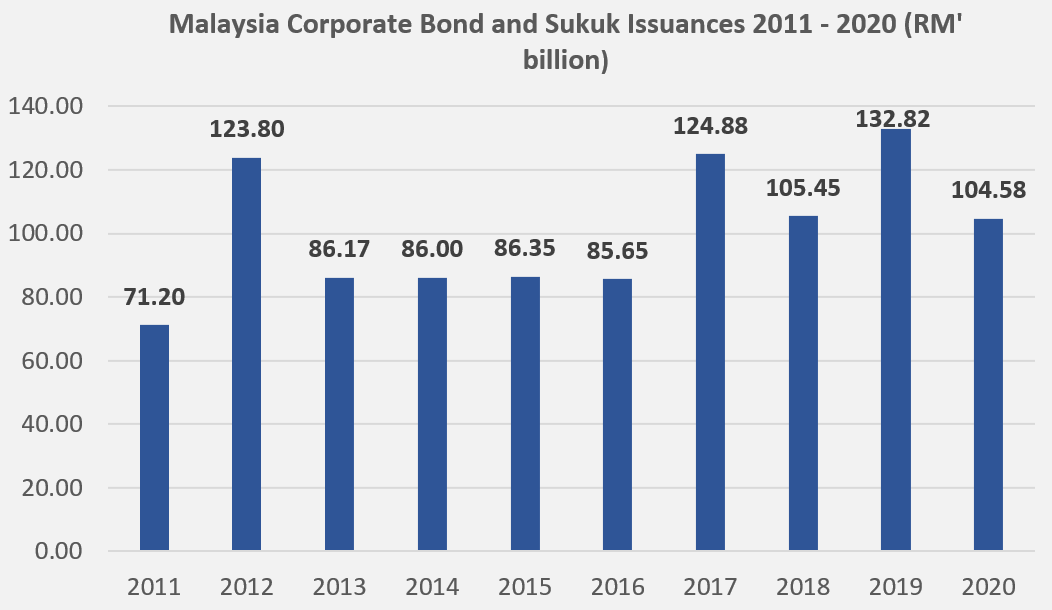 Source: Securities Commission Malaysia Annual Report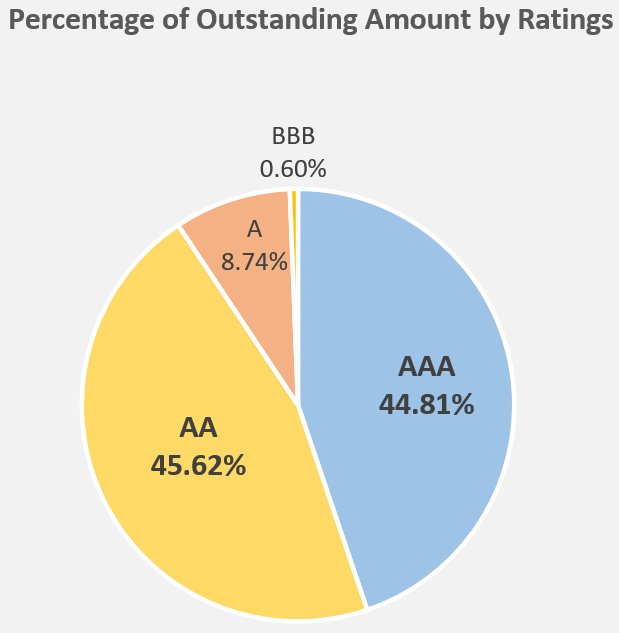 Source: BIX Malaysia
In Malaysia, some bond and sukuk issuances are guaranteed by the government and some of them are guaranteed by a third party like Danajamin.

Danajamin is the first Financial Guarantee Insurer in Malaysia jointly owned by Minister of Finance Incorporated and Credit Guarantee Corporation Malaysia Berhad. It was established in 2009 amid the global financial crisis with three objectives;
​To provide financial guarantee to enable financially viable companies access to the corporate bond market to obtain financing, with emphasis on long-term financing.​​
To catalyse the further development of the domestic corporate bond market as an alternative source of financing to complement the banking industry.
To stimulate economic growth by improving access to capital for Malaysian companies

.
Danajamin receives insurer financial strength rating of AAA from both local credit rating agencies,

RAM and MARC

. After 12 years since inception, the total amount guaranteed by the Danajamin for bond and sukuk issuances was at RM10.862 billion as at May 2021.There are two types of guarantee facilities related to bond/sukuk market offered by Danajamin. First is the Financial Guarantee Insurance (FGI) and second is the Investor Guarantee (IG).
Financial Guarantee Insurance (FGI)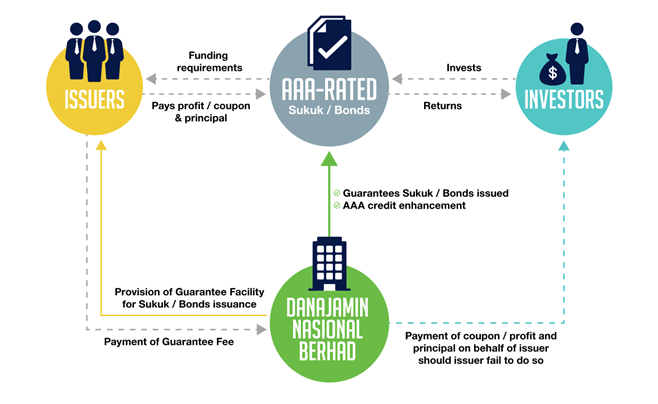 The general structure of Financial Guarantee Insurance (FGI)
Source: Danajamin
Danajamin has a stringent credit assessment in place. A consideration to grant the financial guarantee insurance will be given to commercially viable companies. Selected companies will pay a fee to Danajamin in return for the financial guarantee. The fee will be different for each issuer based on the credit standing, fundraising structure and security arrangement. In the event of default, Danajamin will make a payment of coupon/profit and principal on behalf of the issuers under the guarantee facility. This provides an extra protection to investors in case issuers fail to meet the payment obligation. A financial guarantee from Danajamin assures investors and enhances their confidence to invest in the bond. The bond and sukuk issued with Danajamin's Financial Guarantee Insurance will be automatically rated as AAA(fg), reflecting an irrevocable and unconditional guarantee provided by Danajamin.
Investor Guarantee Programme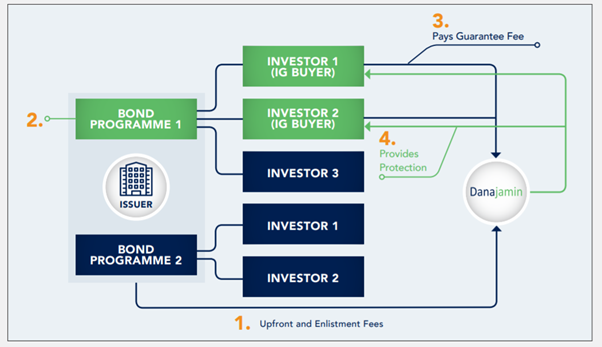 The general structure of the Investor Guarantee (IG) facility
Source: Danajamin
On top of Financial Guarantee Insurance (FGI) which improves the credit of bond and sukuk issuances, Danajamin also provides optional protection to investors via Investor Guarantee (IG) Programme. Bond investors who wish to be protected under the IG programme will pay a guarantee fee to Danajamin. However, the investors can choose to be insured only for bonds/sukuk enlisted under the IG programme. Issuers need to apply to Danajamin to enlist their bonds/sukuk under the IG programme. If the issuers default, investors can call on Danajamin's guarantee up to the amount of the IG purchased. The Investors Guarantee (IG) programme differs from the Financial Guarantee Insurance (FGI) as in the bonds/sukuk under the IG are issued on a stand-alone basis. Hence, the credit rating of the IG bonds/sukuk might have a different rating than the AAA-rating as according to the bond and sukuk under FGI.

Danajamin also support the growth of Sustainable and Responsible Investment (SRI) via Green Technology Financing Scheme (GTFS) 3.0. As announced by the government in Budget 2021, RM2.0 billion is allocated under the GTSF 3.0, which will be guaranteed by Danajamin to support the issuances of SRI bond and sukuk.

The list of issuers who receive financial guarantees from Danajamin is published on its

website

. As to date, Danajamin has guaranteed 43 issuers from various sectors, mainly in construction and building material, toll road and highways, real estate, and consumer related products. Among the issuers are

Berjaya Land Berhad

,

Ranhill Powertron II Sdn Bhd

and

Puncak Wangi Sdn Bhd

. Further information on the bond and sukuk securities of the issuers can be found on

BIX Malaysia

.

Danajamin also issues its own sukuk for the purpose of capital management and additional funding to support more incoming issuers. A

500-million Tier-2 subordinated Sukuk

under the Sukuk Murabahah programme of up to RM 2.0 billion was issued in 2017. The subordinated sukuk is rated AA1 by RAM and AA+ by MARC as of this writing and have a tenure of 10 years with callable feature starting from year five onwards after issuance. The sukuk issued by Danajamin received an overwhelming response that they had to upsize the initial issuance of RM 300 million to RM 500 million and concluded a yield of 4.8%.

Danajamin's role as a financial guarantor helps to drive the growth of Malaysia's corporate bond market by encouraging more issuances from various companies of different sizes. With Danajamin's guarantee facility, issuers can raise fund in the bond market at a low cost and investors can invest in bond with the highest rating.

For more information about Danajamin, please visit its website at

www.danajamin.com
---
Do you like the article? Use our share button above, and don't forget to take a look at other related articles on the side.

Do you have any topics related to bond and sukuk that you are interested to read about? Just drop us an email at [email protected]

Disclaimer
This report has been prepared and issued by Bond and Sukuk Information Platform Sdn Bhd ("the Company"). The information provided in this report is of a general nature and has been prepared for information purposes only. It is not intended to constitute research or as advice for any investor. The information in this report is not and should not be construed or considered as an offer, recommendation or solicitation for investments. Investors are advised to make their own independent evaluation of the information contained in this report, consider their own individual investment objectives, financial situation and particular needs and should seek appropriate personalised financial advice from a qualified professional to suit individual circumstances and risk profile.

The information contained in this report is prepared from data believed to be correct and reliable at the time of issuance of this report. While every effort is made to ensure the information is up-to-date and correct, the Company does not make any guarantee, representation or warranty, express or implied, as to the adequacy, accuracy, completeness, reliability or fairness of any such information contained in this report and accordingly, neither the Company nor any of its affiliates nor its related persons shall not be liable in any manner whatsoever for any consequences (including but not limited to any direct, indirect or consequential losses, loss of profits and damages) of any reliance thereon or usage thereof.